Humble Bee 111 Beekeeping Gloves

"This product are an essential piece of safety equipment for each beekeeper. Whether you are a professional breeder or a beginner, equipping yourself with adequate protective equipment is essential."

Product highlights:

Ergonomic design.
Durable with high thickness.
High flexibility for both men and women.
Good ventilation.
Bees are fascinating little creatures, and without them, our planet would be in serious trouble. Receiving venomous stings from furious bees, on the other hand, is painful and can be dangerous for some people. A good pair of beekeeping gloves will safeguard you from getting stung while tending to your beehives.
Beekeeping gloves are an essential piece of safety equipment for each beekeeper. Whether you are a professional breeder or a beginner, equipping yourself with adequate protective equipment is essential. Here we will review for you the most popular beekeeping gloves – Humble Bee 111 beekeeping gloves.
How to choose the best beekeeping gloves
We strongly advise you to use quality gloves for your beekeeping efforts. Working with bees is a joyful experience. But being stung by your devoted worker bees is painful and indicates that the colony has lost a valuable bee.
The distinctive design of beekeeping gloves are ideal Disposable Rubber Gloves for beekeeping. The thick material on the glove's hand acts as an efficient barrier against severe bee stings.
Long glove sleeves cover your arm all the way up to your elbow. The elastic cuffs keep curious bees from creeping inside the glove. In hot weather, the breathable mesh lining keeps you cool and comfortable.
Leather is the greatest material for beekeeping gloves' hands since it is extremely robust, long-lasting, water-resistant, and sting-resistant. Cotton sleeves offer excellent protection and increased flexibility while working.
One disadvantage of wearing thick leather gloves is that they can be heavy and the material can be bulky around the fingers. These design characteristics, however, are required to defend against bee stings, even though they can impair your dexterity when handling cleaning instruments. You must also take care not to suffocate any bees inadvertently.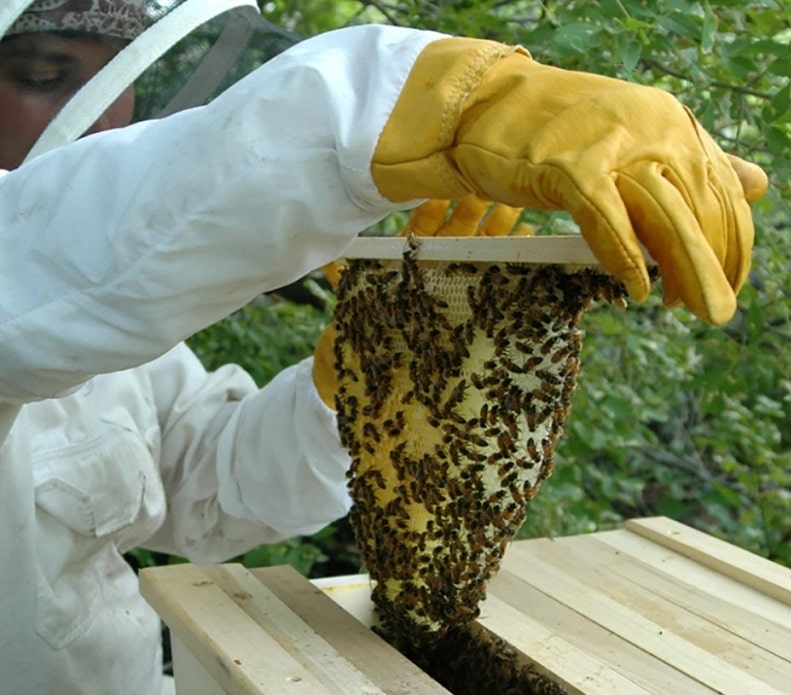 Goatskin beekeeping gloves
Goat skin beekeeping gloves are sturdy, resilient, lightweight, and flexible. Goat leather protects you from stings, is incredibly pleasant to wear, and improves your dexterity. The sole disadvantage of goatskin is that it can be quite thin and does not provide much protection against a swarm of angry bees.
Cow leather beekeeping gloves
Cowhide beekeeping gloves offer excellent protection against bee stings. This is a sturdy, long-lasting substance. This sort of leather, however, is heavier than goatskin and heats up faster. Extra thick material around your fingers can also have an impact on how you grip your beekeeping gear.
Disposable rubber gloves
You might hardly believe it, but disposable neoprene gloves are popular among beekeepers. Rubber gloves are both durable and comfortable to wear. They can also lower the chance of bee illnesses spreading to your buzzing colony. Many customers prefer rubber to leather because the material that covers the fingers is more flexible.
The difficulty with disposable gloves is that the cloth loses its flexibility with time and becomes saggy. In warmer temperatures, it can feel uncomfortable on your skin and can cause allergic reactions in certain people. Disposable gloves do not offer the same level of covering and protection from bee stings as leather gloves.
One issue with the sizing of leather beekeeping gloves is that they might run too small or too large. Before purchasing your gloves, measure your hand according to the manufacturer's size recommendations to ensure a precise fit.
Humble Bee 111 beekeeping gloves reviews
Pros
Cons

Ergonomic design.
Durable with high thickness.
High flexibility for both men and women.
Good ventilation.

Smaller sizes than normal.
The Humble Bee is a high-quality beekeeping glove. Their design prioritizes user comfort. The Humble Bee gloves are made of tough cowhide with canvas sleeves and elastic cuffs.
Humble Bee Beekeeping gloves are composed of fine cotton canvas that is 60% cotton and 40% leather. The maker has raised the quality bar by employing long-lasting cowhide leather sleeves and heavy-duty canvas sleeves. They also include elastic wrapping to maintain the gloves in the proper position. You are safe with added strength, best-in-class protection against bee stings.
The Humble Bee Beekeeping glove has a long-lasting canvas sleeve. They are woven in a tight interlocking pattern to provide excellent protection against bee stings. At the same time, the supple leather hands help hold beekeeping tools and manipulate the hive with a breeze.
The Humble Bee Beekeeping gloves are available in a number of sizes. Its excellent design fits all male and female body shapes, ranging from XXS to XXXL. So, you will easily choose the right pair of gloves when looking at the sizing chart.
Your purchase makes a difference
What makes Humble Bee unique is that, by purchasing it, you are supporting local beekeepers and safeguarding bees all the world. Because Humble Bee provides 10% of its net earnings to NGOs that promote local beekeeping and bee conservation projects.
Read more reviews on Amazon.com
Conclusion
Based on the above criteria, Humble Bee 111 gloves really deserve to be one of the good protective equipment for beekeeping. This is a protective glove suitable for any gender because of its unisex design. Furthermore, the variety of sizes provides you with extra options.
If you are still concerned about the quality of this glove, you can read more reviews on online buying sites such as Amazon, eBay, Walmart, or YouTube to make an informed selection. We would welcome to share your thoughts about the product in the comments section below.
Related Posts: