VIVO BEE-V004E Electric 4 Frame Honey Extractor

"This product was created to suit the demands of even the most discerning beekeeper. It will be a vivo honey extractor electric that will provide enormous benefits to your business."

Product highlights:

Powerful motor.
Suitable for long-hour work shift.
Generous capacity.
Perfect for large-scale business.
In today's market, beekeepers can choose from a variety of honey extractors. If your beekeeping business has progressed to the point that you can generate many bottles of honey, now is the time to invest in a dependable honey extractor. The extractor will not only speed up the procedure but will also increase your yields per season. Because it will prevent the combs from being harmed.
The VIVO Bee-V004E Electric 4 Frame Stainless Steel Honey Extractor was created to suit the demands of even the most discerning beekeeper. It will be a vivo honey extractor electric that will provide enormous benefits to your business.
What is a Honey Extractor?
This is a mechanized device designed to extract honey from bee combs. However, this process will cause no harm or minimal harm to the bee comb. It works by using a centrifugal force. A cylindrical drum inside the extractor contains the frame basket. When activating the rotation of the frames, they will help the honey from the combs to flow out. When you are done, you will remove the comb and wax, then return it to the queen bee to use.
Depending on your budget and the scale of your company, you can choose a manual or electric extractor. The electric honey extractor spins the frames to extract the honey from the combs. It has an electric motor connected to the current supply. The combs rotate in specific proportions to avoid damaged honeycombs. This type of extractor is suitable for commercial use or the most discerning beekeepers.
Advantages of electric honey extractors
Here are some benefits of honey extractor electric:
The electric honey extractor spins the combs quicker and collects enormous volumes of honey in less time.
They are simpler to use. All you have to do is turn on the engine and the spinning begins. There is no need for you to perform any manual labor.
Unlike hand honey extractors, it is much faster.
Ideal for large honey producers, particularly those involved in commercial honey extraction.
Introduction of VIVO BEE-V004E 4 frame electric honey extractor
This electric honey extractor from VIVO is suitable for beekeepers of all skill levels. Its body is made of solid 304 stainless steel. This current model is more advanced than its predecessor, boasting improved functionality and resolving several issues.
The diameter of the drum is 18.5 inches and the height is 23.75 inches. The legs are installed under, so the drum height is 41.5 inches. The space inside is quite spacious, it can hold a 5-gallon bucket.
Its silent motor has a power rating of 120V and can be powered by regular 110v AC power. It also has an integrated cooling fan and a safety function incorporated into the lid.
Features of

VIVO

BEE-V004E
Its 2-inch honey gate has a cone-shaped bottom for effective honey drainage.
The interior basket may hold up to eight small or medium frames. It can hold up to four big frames at the same time.
The honey extractor has a clear plastic double-sided top lid that allows for easy sight of the honey extraction process. It also contains a magnet that keeps the lid open.
It includes a silent 120V motor and a cooling fan built in.
The size of this extractor is 36 x 20 x 20 inches. And they are also made from 304 stainless steel. It weighs about 45 pounds and the shipping weight is 48 pounds.
Drum dimensions: 33 inches in height and 19 inches in diameter.
It features a built-in safety feature in the lid. When the lid is opened, it turns off and when it is closed, it comes back on.
Advantages and disadvantages
Advantages of VIVO BEE-V004E:
Users can clean and maintain the device because it is very easy to assemble and disassemble.
It is fairly spacious and can even accommodate huge frames. Its interior basket may accommodate up to eight small or medium-sized frames as well as four large honey frames.
The area behind the honey gate is large enough to accommodate a 5-gallon pail. This allows you to extract the honey without having to upset the bottom of the extractor when collecting the honey.
It is considered a great product because of its durability and high quality. To track progress, have clear lids. A continuous cooling fan with a temperature monitoring mechanism inside the honey extractor to prevent the machine from overheating.
It features a stylish design. This is one of the most popular honey extraction devices due to the auto on and off functionality.
The prices are fantastic. This is half the amount of what you would expect to pay for similar designs. You can buy honey extractors on Amazon. See Latest Price Here
Its sole disadvantage is that, at 45 pounds, it might be difficult to manage and transport.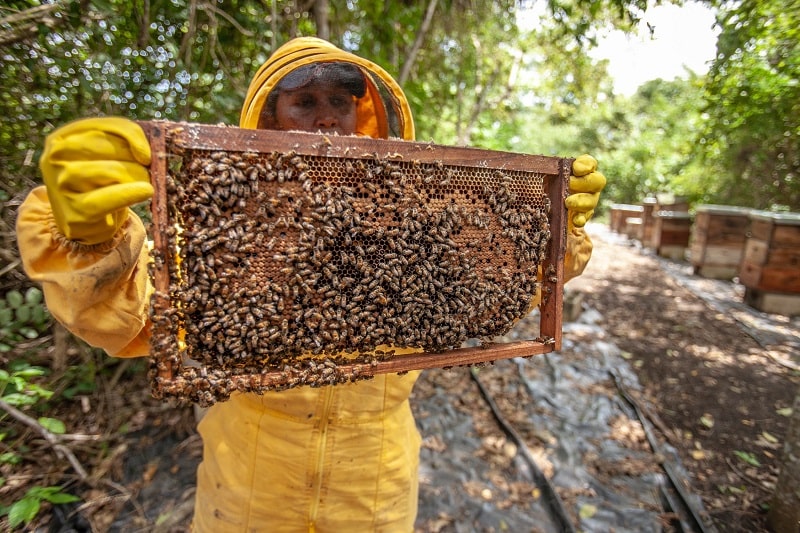 Evaluation that is objective
Commercial beekeepers highly recommend the VIVO BEE V004E electric honey extractor. Besides, because of the good reviews given by buyers, this honey extractor has won the hearts of many people.
This is one of the honey extraction tools you may recommend to anyone, especially those whose hands are unable to hold a manual extractor for an extended period of time. This extractor's design and construction are very outstanding. Its electric propulsion piqued our interest. It is fantastic with the motor whisper-quiet. The clear plastic on the top allows you to keep an eye on the honey extraction process.
Just keep this in mind if you're debating whether to acquire a manual or electric extractor. If the hobby becomes too time-consuming, it's time to invest in an electric extractor. Yes, electric honey extractors are more expensive than manual ones, but you should think of them as an investment that will pay off in the long term.
Read more reviews on Amazon.com
Conclusion
The greatest meaning of this honey extractor is to help improve the limitations of previous extractors. Look no further if you want an autonomous honey extractor that allows you to perform other things while it spins the honey combs. Machine users of any skill level can use the VIVO BEE-V004E 4-frame stainless steel honey extractor.
Read more: