Oz Armour Beekeeping Suit

"This suit is made from high-quality and light fabric mesh with multi-layers, supporting air ventilation and eliminating unwanted stings simultaneously."

Product highlights:

High-quality material.
Air ventilation.
Easy to wear.
Lightweight.
Wide range of sizes.
Beekeepers must use safety gear. Beekeepers would suffer from excruciating bee stings if they did not wear protective clothing. The design of the Oz Armor ventilation mesh beekeeping suit is always with the safety of beekeepers in mind. It protects you from bee stings and lets you engage in bee-related activities with confidence. Therefore, we will review the Oz Armor Beekeeping Suit Ventilated to help you make the right choice when buying protective clothing.
Description of the Oz Armour Beekeeping Suit Ventilated review
This ventilated beekeeping outfit is composed of a fabric that allows for free airflow. Even in hot weather, it effectively cools you down. The heavy duty fabric is durable too. This beekeeping suit from Oz Armour is machine washable without the fabric suffering any damage.
It provides the option of a fencing veil or a round veil with a brim hat. You are free to select the one that best suits you and connect it to the beekeeping outfit. Each veil has a strong plastic insert that keeps it away from your face. This significantly minimizes the likelihood of bee stings reaching your face when wearing the suit.
The veils also offer built-in sun protection. This eliminates the need for hats and caps to be worn behind the veil. The mesh used on the veils is produced in Italy. It provides excellent visibility through the mesh and is quite robust.
Most full beekeeping suits do not include gloves. Therefore we like the fact that the Oz Armour Ventilated Air Mesh Beekeeping Suit includes ventilated cow-hide gloves. These gloves are as tough as the rest of the outfit and will keep your hands safe. The elastics in the gloves provide for a close fit, preventing any bees from sneaking through and entering the suit.
Zippers are used to closing the Oz Armour Beekeeping Suit. The suit has a zipper down the front that enables for easy donning and removal.
The zippers used are high-quality YKK zippers. For your comfort and convenience, each zip features two sliders. The zippers on the sides of the beekeeping suit are also functional. They make getting dressed a breeze. A zip is also used to link the veil to the upper section of the outfit.
Velcro flaps cover the pockets of this beekeeping costume. They effectively seal the pockets, preventing your tools from falling out. There are hive tool pockets on each arm of the garment and four pockets on this beekeeping costume. There are enough for all the tools and devices you would wish to bring on a visit to your apiary.
The Oz Armour Ventilated Air Mesh Beekeeping Suit is easy to put on and take off. The beekeeping suit's wrists and ankles are elasticized. They have a good seal to keep bees from creeping under the suit and getting into your flesh.
The elastic also works well with any other protection gear, such as boots and gloves for your hands. Beekeepers will also benefit from a key clip loop and a pen holder channel on the suit.
This beekeeping costume is available in a variety of generous sizes. At the time of writing, the suit was available in the following sizes: Small, Medium, Large, X-Large, XXX-Large, 4X-Large, 5X-Large, 7X-Large, and 8X-Large.
It is customary for beekeepers to purchase a beekeeping outfit that is one size larger than their regular clothing. Oz Armour features a good and simple sizing chart that will help you decide which size to buy. Beekeepers who purchase a seat that is too big or too little for them are welcome to contact Oz Armour and request an exchange. If you purchase an incorrectly sized suit, Oz Armour will promptly ship you a new suit in the correct size.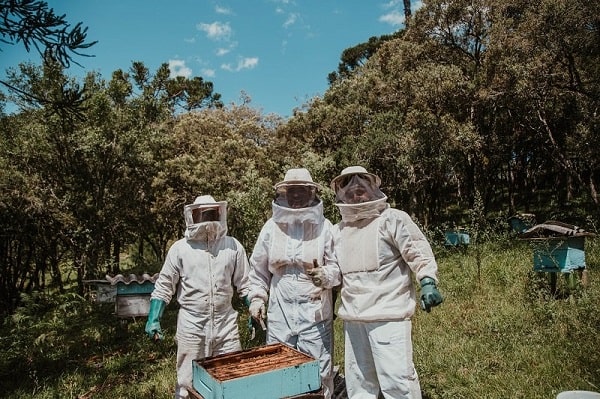 >>> Read more: Top 5 Best Beekeeping Jacket Reviews and Buying Guide
Advantages and disadvantages of this suit
Here are some advantages:
The beekeeping suit includes two alternatives for the veil that covers the head. You have the option of selecting your preferred alternative.
The suit is well-designed, sturdy, and long-lasting. It prevents bee stings from penetrating your skin and hurting you.
This suit is available in a lovely white color. It deflects heat and is gentle on bees. Dark colors on beekeeping outfits irritate bees, making them want to sting you.
This full body beekeeping suit comes with gloves.
Toe and thumb grips on this beekeeping outfit maintain the legs and sleeves in place at all times.
Excellent range of sizes from X-Small to 8X-Large.
A Professional-grade beekeeping suit that is also suitable for beginners.
We have only one downside when it comes to protective gear. This beekeeping suit may not be suitable for beekeepers working in cold climates. It is also not ideal for use in cold weather. If you are working in a suit in cold weather or live in a cold climate zone, you should wear some warm clothing underneath it.
Read more reviews on Amazon.com
General assessment
Oz Armour is concerned with the beekeeper's safety. The Oz Armour Ventilated Air Mesh Beekeeping Suit exhibits excellent design and purpose. Oz Armour has its own quality control staff. It guarantees that every beekeeping suit from Oz meets high quality criteria.  The suit is a one-stop solution for beekeepers in hot climes, where beekeeping outfits frequently overheat.
Today, OZ Armor is the best beekeeping suit in Australia, New Zealand, Italy, UK, Germany, France and the USA. Especially if you buy OZ ARMOR products, you donate to the education of disadvantaged children. In addition to this protective suit, you can refer to other quality products from OZ such as Oz Armor honey extractors, honey tanks, honey warmers (DE crystallizes), smokers and uncapping machines.
Conclusion
The Oz Armour Ventilated Air Mesh Beekeeping Suit is lightweight and keeps beekeepers cool while protecting them from stings. This outfit is appropriate for use in apiaries all around the world. It is simple to use for both novice and professional beekeepers.
This vented beekeeping outfit provides beekeepers with a comfortable experience while working with bees. They do not have to worry about bee stings and can focus on completing hive inspection, honey collection and other bee-care tasks as soon as possible.
Related Posts: